Solo Sailing and anchoring:
This sail was my first long solo-sail. I was not expecting it to be this easy. I sailed 110 miles a day for the first three days even though I slept for almost 12 hours a day. At night I would reef down both the main sail and the genoa, put some lights on, bring the gps to the cabin and sleep. During the night I woke up from time to time and had a glace at the gps to see if I was going in the right direction and with normal speed and then fall asleep again. My biggest problem at sea is that I hate to cook when I sail, I don't like the smell of the alcohol stove and the small room makes me seasick. When Darryl was here he was the designated cook but now I had to do it myself and for the two first days I ate bananas (from Paul and Andrea, thanks) and canned food that I did not heat and ate straight from the can but after that my body had adjusted to the movement and I was fine.
Arriving was another scary thing, not only do I have to put the anchor in myself but I had to go into the reef opening and navigate the current and small channel first. It took me almost 20 minutes to find the little opening in the reef with about 10 sticks showing the way. I actually had to ask a couple that was fishing outside the reef to point me in the right direction. The channel was no more than 10 meters wide and winded itself in for about 300 meters before I could turn right into a small anchorage area. At the most shallow point it is only 1,6 meters deep (5 feet) so when Paul arrived a couple of days later he had to wait for high tide and according to his dept sounder he cleared the bottom by 6 inches (15cm). We are now anchored with a stern anchor to keep us straight because if we swing we will hit the sandbar that we have on one side or the coral on the other side.
Small Island small World.
My plan of Aitutaki besides having the time of my live (as usual) was to find Josephine and her family. Josephine is the daughter of Captain 'Reinhart Godfred Jonassen' who came from the same town as me. He went on the reef somewhere in Polynesia a long time ago and decided to stay on. I am not sure of the year but his still living daughter Josephine is 92 so it must have been a long, long time ago.
The first night when I came to Aitutaki I did not want to go straight to Josephine's house but get to know the island a little and relax first. Since I don't have a fridge on the boat and never can have anything cold first order of business is normally Getting a cold beer and Aitutaki was not going to be an exception. After a couple of hours in the bar I got to talk to some people there and the normal questions were answered one by one, where are you from?, how old are you?, is it hard to sail alone? When they asked me what I was going to do in Aitutaki I answered that I was going to see Josephine. I knew they would know here because there is not more than max. 3500 people here and everyone probably knows everyone but when Tim answered he was her son and John was married to her daughter they caught me by surprise.
The Island and the Island People.
After being in Polynesia for so long and having encounter so much friendliness I really did not expect the cooks to be better but after spending some time here I think they are. There is no way I can say anything bad about the French Polynesians hospitality but here they are taking it even further. When I first arrived everyone that passed me in a car waved and everyone who passed me on a moped said hello and welcome (many) and still when I walk home at night every moped that passes me says 'good night' and waves. The same generosity and friendliness are found in every aspect of the island, it is truly amazing here.
Spetakkel and Tefadswa are the two first boats of the season here. Having tried to describe the island people without really being able to give them all the credit they deserve I will not even try to describe the lagoon or the island, it is just to beautiful for written description but I will post some pictures of the island and picnic we had on one of the smaller islands here. If there is any Americans reading this the next 'BBC Survivor' show will be from here. BBC has booked all of the hotel and motel rooms here (250) and rented two of the smaller island out by the reef. If you know anyone that will be in the show let me know and I'll dig down a carton of cigarettes for them, hehe :-)
No dogs allowed?
Tafadswa, Paul and Andrea's boat have a ships dog. Her name is Berry and she is normally very happy whenever they get to a new port and she can get grass under her paws again. Unfortunately here it is not even possible to sneak her to land. There are no other dogs?. We asked around and got three different versions and they were all exciting but which one was true?, I decided to ask the oldest and clearest person that I know here and of course Josephine with her 92 years and crystal clear mind knew. Even though there have been exceptions like war and police dogs there have not been dogs here since long before the world war. There was a time when there were dogs everywhere and besides the usual menace with too many street dogs they were starting to get aggressive and were biting people. The 'chiefs' had a council and decided to kill all the dogs and ban dogs forever.
To get Berry of the boat without causing a scene here Paul takes her to the little sandbar that we are anchored next to twice a day. What time of day varies with the tide because it is only above water twice a day and then only for a few hoers.
Kjell O. Stave
'biking trip'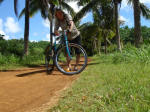 'Red tailed Tropic bird'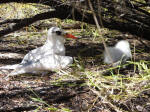 'A little too shallow for the dinghy'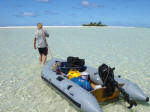 'The local bar'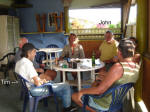 'Josephine's'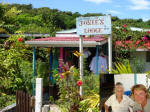 'Me Posing for this picture'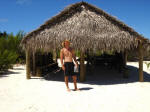 'BBQ on a remote island'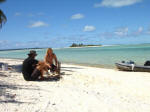 I wanted to wed Paula & Andrea here with the power invested in me as a captain but all she got was this picture...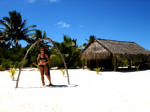 Paul and Barry on 'Barry's Island