The 'hosting' system:
As I approached Palmerston it was still dark and I contacted 'Samuel' on the vhf to get directions and he told me to go to the 'North of the Island'. Of course I misunderstood and went to the 'North Island' instead. After beating the weather for an hour or so I finally arrived at the wrong island and contacted 'Simon' again to find out that his brother was waiting for me in a small dingy at the other island!. His brother did not have a handheld vhf so there were no way of letting him know why he had to wait for two hours for me. Needless to say I was a bit nervous to meet him after having him wait but there were no reason for that. Edward was a great man and the truth was that there were other families out there too, trying to get me?. Palmerston island have no airport and the supply boat only comes 3 or 4 times a year so when the sailboats arrive they are happy to meet other people and give us the best welcome and hospitality imagined. It works like this: The first boat out to meet the sailboat are the host for this boat for its entire stay, that means that Edward would come out to get us every day at the time we would like to go ashore and take us back at night. During the daytime we are welcome to join them on breakfast, lunch and dinner. Coffee is served all day and we are free to do whatever we want to do. I could easily have stayed at Palmerston for ten days without spending one dollar but when they had a paid dinner to collect money for a school trip we bought plates for us and even the dog at 6 dollars a plate. The host family don't expect anything but friendship but they like to exchange DVD's for the nights and of course we donated small items like lures and rivets that they would otherwise have had to wait for months to get with the supply boat.
The Doctor, The Electrician and the Mechanic!.
The Polynesians have been so good to us that both me, Paul and Andrea were starting to feel that we owe these people lots of favors and up till now we had not found a way to repay all the kindness we have been given. We have received fruit, vegetables, showers, water, rides with cars and so much much more. Here on the other hand being so isolated the people were in need of all kinds of services and we were not slow in offering our services. Andrea who is a licensed chiropractor set up shop at the health clinic and during three hectic days she saw just about all the people on the island. The result was magnificent and everyone were happy to have a doctor on the island again. Paul made spears for the kids spear guns and fixed their bikes, well actually Andréa patched two bikes with leaking tires too. I went to four houses and gave lections on battery maintenance, fixed two printers, one vhf, one radio and other small stuff. I also helped Paul start up a 25 hp outboard that had not been running for two years.
The Island and the Island People.
Palmerston is a really really small island. You can walk around it in 30 minutes and the highest point is about 3 meters. On that point they have the rescue-three that they have to cling to or climb if a hurricane hits the island. Even though the population is small they have a lot of activities going on and besides the never ending task of fishing (there are lots of fish around the island) we entered the annual volleyball tournament and the team i was on actually won!!!. Well i was only good enough to sign up for the kids team and there was only two teams in this division but a win is a win, right??.
A couple of days before leaving we were invited to a kids haircutting? and two year celebration. I have never seen this tradition before but it was fun. The kids hair was tied up with 24 ribbons and 24 people were invited to come up and cut off one piece. I was number 21 and I must admit it was fun. After we all ate and another tradition i liked about the island proved to bee true. The most important thing when you are hosting a dinner is to make sure that it is impossible to eat all the food and that everyone gets to bring food home for breakfast. For a bachelor sailor it really doesn't get any better than that.
A Funny story?
The power on the island is supplied by a generator that they run 6 hours in the morning and 6 hours in the evening. Before the volleyball competition that Edward actually won (best of 6 or 8 teams of sand volleyball) he wanted to look good so he started to cut his hair only to loose the power after the first cut, hehehe. He had to go to the tournament looking like on the picture below, hehehe. Everyone but him thought this was really funny...
Kjell O. Stave
'Edward the Host'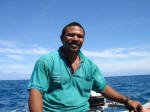 'The Main Street'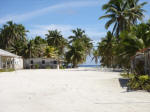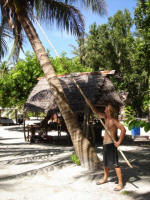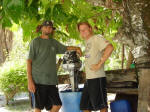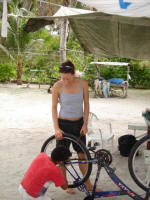 'Hair cutting'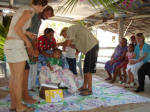 'Edwards Haircutting'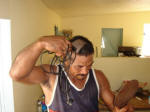 'Even though this girl don't know what Liverpool is it was great to see that even here they know how to dress when The Fa cup is going to be won by the best'